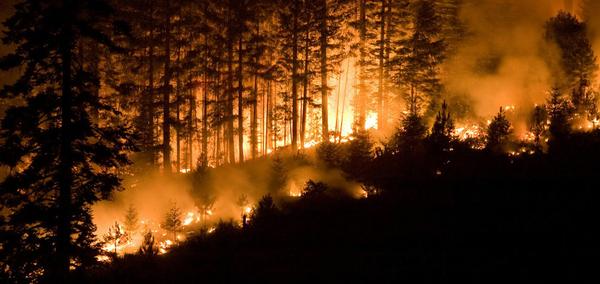 WEST ON FIRE
A sobering headline from a recent news article read "Extreme Weather Watch: August 2015—The Western US Burns Up" (San Diego Free Press, September 8, 2015). This year, over eight million acres have burned, primarily in Oregon, Washington, Idaho, Montana and California (National Interagency Fire Center, September 6, 2015). Firefighters have come from around the globe, and the U.S. Forest Service is spending $10 million per day to fight
fires (San Diego Free Press, September 8, 2015). "In 1995 16% of the Forest Service's budget went to fight forest fires. Today it's 52% with 70% predicted in the next decade if present trends continue… According to the Washington Post, there are only six other years that have seen more than 8 million acres burned—2012, 2011, 2007, 2006, 2005, and 2004—based on National Interagency Fire Center records that date back to 1960. It is hard not to notice that all of these years came since the year 2000" (ibid.).
Long ago, God warned the Israelite nations that if they turned away from Him and despised His laws, "I will make your heavens like iron and your earth like bronze" (Leviticus 26:14-19). The prophet Hosea warned, "Israel has forgotten his Maker… I will send fire upon his cities, and it shall devour his palaces" (Hosea 8:14). The prophet Ezekiel records that God will bring "disaster upon disaster" upon backsliding Israelite nations until they learn that they have defied the God who gave them the blessings that they have enjoyed (see Ezekiel 7).
As the end of the age approaches, we will see even greater conflagrations as God uses natural disasters to get mankind's attention. For more on this subject read Who Controls the Weather?
(Credit:  http://www.tomorrowsworld.org/ )
(Photo:  Screenshot Saudi TV via AP)
HUGE CRANES FALLS ON MOSQUE IN RIYADH, SAUDI ARABIA KILLING 107
SNIPPET:  A towering construction crane toppled over on Friday during a violent rainstorm in the Saudi city of Mecca, Islam's holiest site, crashing into the Grand Mosque and killing at least 107 people ahead of the start of the annual hajj pilgrimage later this month.  SOURCE
CHILDREN FOUND LIVING IN CAVE INSIDE A CRATE
SNIPPET:  KANSAS CITY, Mo. (AP) — A 24-year-old mother is in custody Saturday after her two young children were found barefoot, dirty and living in a wooden shipping crate in an underground cave on the eastern edge of Kansas City, Missouri.  SOURCE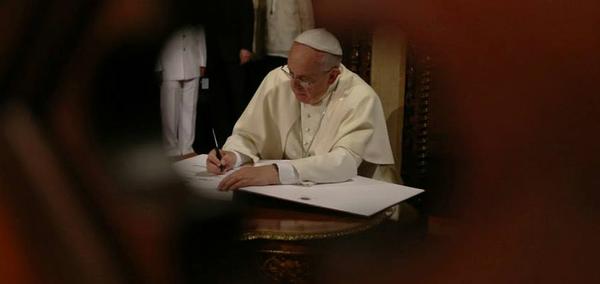 (Photo Credit: AP)
"In a letter released on Tuesday, the pontiff requested that women who have abortions—and the doctors who perform them—can be pardoned, during the church's self-declared 'Jubilee Year,' which runs for most of next year. According to Catholic doctrine, abortion is such a grave sin that those who procure or perform it are automatically excommunicated… 'I have decided… that during the Jubilee Year, all priests will have the faculty to absolve from the sin of abortion, all who have committed it and who ask forgiveness with heartfelt penance,' Francis wrote" (Deutsche Welle, September 1, 2015). "In Roman Catholicism, the Jubilee is a special year of remission of sin and universal pardon, called every 25 or 50 years" (ibid.).
Although abortion is clearly murder (see "Abortion: A Modern Holocaust?"), Christ died so that all sinners can come to repentance (2 Peter 3:9), and repentance is necessary for sins to be forgiven (Acts 2:38). However, nowhere in the Scriptures are human beings given the prerogative to absolve sins or place a time limit on one's opportunity to repent. God speed the day when all of humanity will learn about the power of Christ's shed blood to forgive sins (Matthew 26:28), and about the blessings that come with a life of obedience to God and His ways.
( Credit:  http://www.tomorrowsworld.org/ )
SADISTIC FATHER LOCKS 3 YR. OLD WASHER AND DROWNS HIM
SNIPPET:  Melun (France) (AFP) – A French father who stuffed his son into a washing machine and then surfed the internet as the toddler died was jailed for 30 years.  SOURCE
EXPLOSION KILLS 89 IN INDIA
SNIPPET:  NEW DELHI (AP) — At least 89 people were killed at a restaurant in central India on Saturday when a cooking gas cylinder exploded and triggered a second blast of mine detonators stored illegally nearby, police said.  SOURCE
CERN UPDATE 09/13/15
'Littlest' quark-gluon plasma ………
SNIPPET:  by Staff Writers     Lawrence KS (SPX) Sep 04, 2015
Researchers at the University of Kansas working with an international team at the Large Hadron Collider have produced quark-gluon plasma – a state of matter thought to have existed right at the birth of the universe – with fewer particles than previously thought possible.   SOURCE   MONSTER IMAGE CERN
Fermilab experiment sees neutrino oscillation  <<===CLICK IT
GOOD NIGHT…….