Snippet:
USS Zumwalt
On Monday (Dec. 7), the 610-foot-long (186 meters) destroyer, the USS Zumwalt, made its way from the Bath Iron Works shipyard in Bath, Maine, to the high seas. The massive ship tips the scales at 15,480 tons (that's nearly 31 million lbs., or more than 14 million kilograms) and cost more than $4 billion to design and build, according to a report by The Washington Post.   Source
Gold-Plated AK-47
Credit: Collection of Curator Branch: Naval History and Heritage Command, distributed under a Creative Commons license   
A close view of a gold-plated AK-47 captured in Iraq.
Quasiparticles' reveal incredibly minute distortions in light waves
Washington DC (SPX) Dec 11, 2015 –
Optics researchers have discovered a new way to measure incredibly small distortions in light waves by indirectly studying the behavior of curious 'quasiparticles' – ripples in the electric field that emerge when light and solid surfaces interact. This new technique holds significant promise for applications in metrology and chemical sensing, as well as potential improvements in adaptive optics …
more
Israel tests Arrow 3 missile defense system, target locked on from space
Tel Aviv (Sputnik) Dec 11, 2015 –
The Israeli Defense Ministry announced

Thursday

it has successfully carried out a test on locking on a missile target from space using its Arrow 3 missile defense system that was developed jointly with the United States. "The anti-missile Hetz 3 [Arrow 3] complex completed all of its planned flight stages and destroyed its target. Target lock on occurred in space," the Defense Ministry sai …
more
US Military's secretive space plane marks 200 days on orbit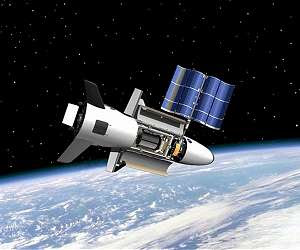 Washington (Sputnik) Dec 11, 2015 –
The US Air Force's super-secretive X-37B space plane has spent 200 days in orbit as it carries out a classified mission for the American military. The unmanned X-37B launched on

May 20

on the back of a United Launch Alliance Atlas V rocket from Cape Canaveral Air Force Station in Florida. The space plane is the fourth spacecraft of its kind for the US Air Force. The mission, called O …
more
Israel successfully tests ballistic missile interceptor
Jerusalem (AFP) Dec 10, 2015 –
Israel and the United States

on Thursday

successfully tested a ballistic missile interceptor as the Jewish state seeks to upgrade its defences in the face of regional threats, officials said. The trial from an Israeli test range involved the Arrow 3 interceptor, designed to shoot down missiles above the atmosphere, with Israel concerned over the potential for attacks from enemies including I …
more
Lockheed Martin PAC-3 missile intercepts ballistic target in flight test
White Sands Missile Range, N.M. (UPI) Dec 10, 2015 –
Lockheed Martin completed its flight test of the Patriot Advanced Capability 3, or PAC-3, Missile Segment Enhancement missile as part of a U.S. Army-led evaluation at White Sands Missile Range, New Mexico. The demonstration marked the third PAC-3 missile test since November. During the test, two PAC-3 MSE missiles were launched and intercepted an incoming target, with the first missile …
more