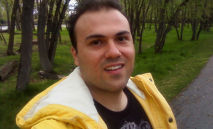 SHARED NEWSLETTER ACLJ
I just got off the phone with American Pastor Saeed Abedini – a U.S. citizen – who was just released this weekend from an Iranian prison after more than three years of harsh imprisonment for his Christian faith.
I cannot underscore enough how grateful he is for the tireless efforts of the millions of people who prayed and spoke out for his freedom over the last nearly three and a half years.
In a phone call from a U.S. military hospital in Germany where he's being treated, Pastor Saeed thanked our entire ACLJ team and the more than 1.1 million ACLJ members who worked to secure his freedom, saying, "May God bless you for everything you did."
Pastor Saeed has endured the worst conditions imaginable.  He is now free and looking forward to returning home to America.  He is receiving much needed medical care at a U.S. military base in Germany and his road to recovery from all he has endured will take some time.  Please continue to pray for Pastor Saeed and his family.
I want to join Pastor Saeed in thanking all our friends and members here at the ACLJ who have stood with us, resolute, in our advocacy across the globe for Pastor Saeed's freedom.
As we celebrate his release, it is important to remember that Pastor Saeed was just one of thousands imprisoned for their faith and millions facing deadly persecution just for being Christians.
Now that Pastor Saeed is free and safe, we turn our attention and advocacy to the plight of numerous other persecuted Christians.  More than 1.1 million of you made your voice heard for Pastor Saeed, and now he is free.  It's time for us to raise our voices again.  Be heard with us as we aggressively advocate for Christians in the Middle East facing genocide for their faith.
---
1 Timothy 6:12 | View whole chapter | See verse in context Fight the good fight of faith, lay hold on eternal life, whereunto thou art also called, and hast professed a good profession before many witnesses.
2 Timothy 4:7 | View whole chapter | See verse in context I have fought a good fight, I have finished my course, I have kept the faith:
With the release of American Pastor Saeed Abedini from an Iranian prison, this case comes to a close.
Our attention is now focused on the plight of numerous other persecuted Christians around the world.
The fight for the persecuted Church is not over. As I told our team after Pastor Saeed's release was secured: Next case.
Over 1.1 million of you signed Pastor Saeed's petition, and he is now free. Take action again as we vigorously fight across the globe for Christians facing imprisonment and death.
Sign Our Petition: Save Christian Mom Asia Bibi from Execution.
Sign Our Petition: Recognize the Genocide; Protect Christians.
Jay Sekulow    ACLJ Chief Counsel
SHARED NEWSLETTER @ ACLJ PETITIONS